At the end of December, the Minister of Industry visited the site identified in the Mandjou-Kano industrial zone.
The late Gabriel DODO NDOKE, former Minister of Mines, Industry and Technological Development, had a work session in the East Region on 28 December 2022, to monitor the implementation of major industrial and mining activities in Cameroon. The purpose of this visit was to assess the progress made in setting up an industrial zone dedicated to wood processing in the town of Bertoua.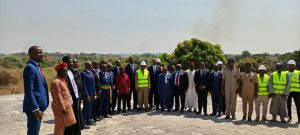 He was accompanied by other members of the Government and administrative authorities who visited the Mandjou-Kano site. The visit took place against a backdrop of policy-sharing in the Central African sub-region on the industrialisation of timber. From 1st of January 2023, the ban on logging in the whole of Central Africa should have been in place. But this deadline has been postponed. "It has been postponed to allow time for member countries to put in place a system that will accommodate wood-based industrial zones that will eventually become special economic zones, as requested by the Presidents of the Central African States", the Minister stated.
There are plans to set up industrial zones dedicated to timber processing in the towns of Bertoua, Edéa, Kribi and Douala, in line with the strategy for the sustainable industrialisation of the timber industry in the Congo Basin. The strategic visit also made provision for the industrialisation of timber exports in the form of logging trucks.
As a reminder, Cameroon exported 777,652 m² of timber in the form of logging trucks, i.e. 28.6% of national exports. With a view to gradual implementation, support for timber processing units is envisaged.
The pilot site has been identified in Bertoua. A site has also been identified in Mandjou-Kano, thus expanding MAGZI Bertoua industrial zone.
Given the ban, the project also aims at attracting national and international investors in order to boost local wood processing.
It is worth indicating that, "this project has a railway component to reach Belabo and dispatch the products that will leave from there. It also has a training and reforestation component", said the Minister.
For the record, according to data from approved institutions, growth in manufacturing industries increased to 2.1% in 2020, after 1.1% in 2019. This trend will be driven mainly by the dynamism observed in the "beverage industries".